Violiste Anna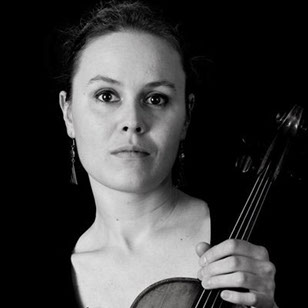 Info
Belgian violinist of Russian origin, was born in 1981 and started to play violin at the age of 6.In 1996 she got a place in the Moscow Conservatory Musical College where she studied with prof. N. Anurova and graduated with success in 2001.Anna continued her studies in The Jerusalem Academy of Music and Dance (Israel) with prof. M. Liberman from 2001 to 2004. In 2005 she moved to Belgium where she obtained her master degree at the Royal Conservatory of Ghent in 2011, studying with prof. M. Bezverkhny.
In October 2008 she was granted a diploma on the International Violin Solo Competition in Cremona (Italy).Anna played with Cascophil Chamber Orchestra, the Philharmonic Orchestra of Flanders, the Filharmonie, The Flemish Opera and ISQ string Quartet. She has been playing classical music at high level, having had the delight to play Tchaikovsky directed by Lahav Shani (Filharmonie) or the Opera La Juive by Peter Konwitschny (Flemish Opera). On top she is also experienced in performing pop, rock and movie themes music.
She has played a wide variety of concerts and shows in Europe. One of the highlights in 2016 were certainly the Hans Zimmer tour in Europe (the Philharmonic Orchestra of Flanders) and the Marble Sounds live concert at C Mine Genk (Cascophil). Anna also played numerous recordings with Cascophil Chamber Orchestra for pop artists like Clouseau, Marble Sounds, Jan Leyers, etc.
Video
Violiste Anna vrijblijvend aanvragen
Vorige optredens
Datum
Tijd
Type evenement
Locatie
Plaats
2021-11-06
22:45 - 23:15
Violist

Calypso
Knokke
2020-01-03
22:00 - 00:30
Violist
Allround DJ

Cafe-Restaurant Aaltje
Weesp
2019-12-19
15:30 - 20:00
Violist
Allround DJ

Kadant Johnson Europe BV
Weesp
2019-09-21
21:00 - 01:00
Violist
Allround DJ

Kasteel de Hoogenweerth
Maastricht
2019-04-30
21:00 - 00:00
Violist

Bistro Botanique
Roeselare
2019-03-30
22:00 - 03:10
Violist
Allround DJ

Grand Café De Lindenhof
Soest
2017-07-01
17:00 - 02:00
Violist
Allround DJ

Aen de kerck van Melveren
Sint-Truiden