Sax Naomi
Allround/Jazz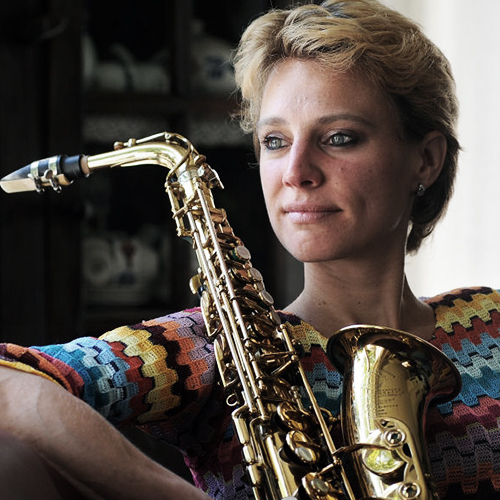 Info
Naomi was born in Breda (NL) and still lives in this beautiful city. When she was 7 years old she discovered jazz music and especially liked to listen to Dave Brubeck ("Take Five") and Nina Simone ("My baby just cares for me").
Although Naomi liked to listen to jazz, soul and funk music she started to take classical music lessons during a couple of years. First in flute, french horn and drums, but at the age of 12 she was attracted by the soulful sound of the saxophone. It was only some years later that she felt the urge of learning more about chords and improvisation.
From that moment Naomi devoted herself to jazz and pop music with the aim of getting more and more acquainted to these music styles.
Nowadays Naomi is a frequently asked, (inter)nationally featured, musician, playing jazz as well as blues, funk and pop music. She's shared the stage with some of the best jazz and blues artists in Holland and the United States, like Candy Dulfer, Leroy Jones(USA, Harry Conick Bigband), TK Blue (USA, Randy Weston African Rhtyhm Sextet),Chazzy Green (USA, Brothers Johnson, Johnny Guitar Watson), Bruce James and Bella Black (USA, James and Black Soultet), Tim Welvaars, Eddie C, Karel Boehlee, Theo de Jong, Rinus Groeneveld, Erik Kooger, Boris van der Lek, Bart Kamp etc.
Naomi has been a band leader for several groups, nowadays she's still leading her own NA Jazz Trio. Plus she is the 2nd half of the jazz duo TEAM HARMONY, with jazz harmonica player Tim Welvaars. Naomi is also playing a few days each month in one of the biggest entertainment parks in Europe.
Naomi is an appreciated organizer as well. She's been organising an educational JAZZ PROJECT for primary school pupils and a small jazz festival in her hometown Breda.
Video
Sax Naomi vrijblijvend aanvragen
Vorige optredens
Datum
Tijd
Type evenement
Locatie
Plaats
2019-05-22
18:00 - 23:15
Saxofonist
Allround DJ

Hotel van Oranje
Noordwijk
2017-12-31
19:00 - 00:00
Saxofonist
Allround DJ

Fletcher Hotel-Restaurant Trivium
Etten-Leur
2017-11-03
17:00 - 23:00
Saxofonist
Allround DJ

McArthurGlen Rosada
Roosendaal
2017-07-28
21:30 - 23:00
Saxofonist

Groot-Bijgaarden
2016-06-18
18:00 - 03:00
Saxofonist
Allround DJ
John & Mr. Smith

't Klooster
Zelzate