Perc Steven
Allround/Drums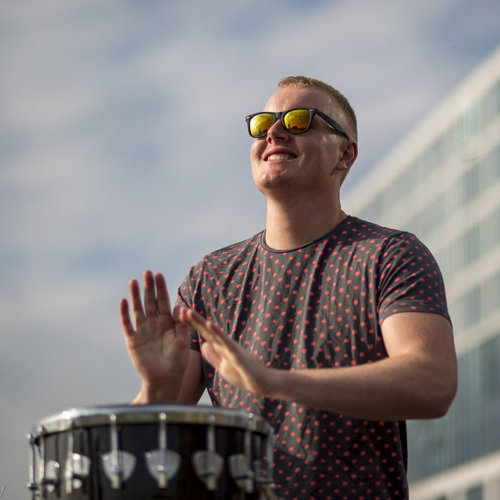 Info
Through his mother's interest in African dance, Steven grew up hearing African percussion. At the age of six he attended a gig at Podium Grounds in Rotterdam, where he watched Senegalese percussionist Aly Ndiaye Rose play a duo show together with Lucas Merwijk. Ndiaye Rose played on five drums at once, fascinating to such a little boy, and so began a lifelong love of percussion. Right then and there, he asked his mother for lessons and they set up classes with Aly Ndiaye Rose.
Steven took djembe lessons with Ndiaye Rose and soon began expanding to other percussive instruments, including sabar, congas, bongos, timbales, timbal and others. He worked on his skills as a musician not only by taking many different classes, but also by travelling to countries with different musical styles, including Senegal, Guinea, Curacao, Maroc and Brazil. This broadened Steven's musical passion from African percussion to include Brazilian and Latin music. At home in the Netherlands, Steven played with people of many nationalities, of learning by playing in the streets. Venezuelan percussionists Roberto Quintero and Orlando Poleo inspired him in this genre and taught him the importance of practice and structure. Combining this methodological approach to percussion with practical, street-wise learning makes Steven's technique remarkable and the broad range of instrumental knowledge adds impressive depth.
Currently, Steven is recording and touring with the bandKOFFIE, but for the past two years he has also performed with bands like Banda Magda (USA), The Re:Freshed Orchestra (NL), The Bill Laurance Group (UK) and Grammy Award winning band Snarky Puppy (USA). Steven can be heard on the Snarky Puppy album We like it here for which he recorded as a guest musician in Kytemans studio. This work with Snarky Puppy led to broad recognition, while the KOFFIE album Huntu gave way to performances at many music festivals, bringing Steven's percussion sounds to a wider audience. Jazzism described Huntu as outstanding album.
These projects and collaborations made Steven into the versatile percussionist he is today. Steven values innovation and tries to mix different styles and rhythms throughout all his musical endeavours. At the moment Steven is recording his own music. A salsa album will be upcoming in the end of 2017. And finally Steven will release his first album which was recorded in Kytopia Utrecht. It is a mix of afrobeat and funk.
Video
Perc Steven vrijblijvend aanvragen
Vorige optredens
Datum
Tijd
Type evenement
Locatie
Plaats
2021-09-18
21:00 - 00:00
Percussionist
Allround DJ

Suiderstrand
Den Haag